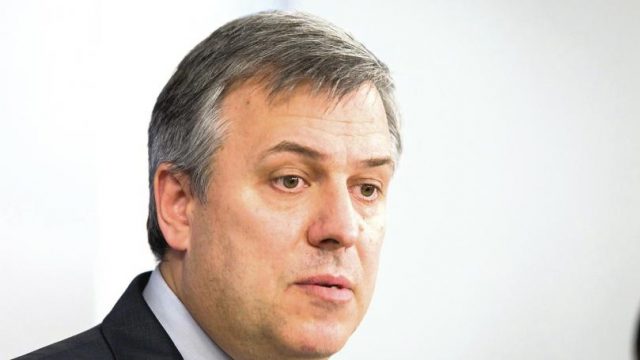 During the DPM period in power, in addition to awkward activists and opposition leaders, European experts were also being followed. This is the case of Lithuanian prosecutor Irmantas Mikelionis, who was a consultant on the Twinning project, implemented and funded by the European Union, to strengthen the operational capacities of law enforcement agencies in the Republic of Moldova in the field of prevention and investigation of corruption. Although in this case a criminal case was started, it had no purpose, SafeNews.md reports with reference to anticorruption.md.
The criminal case was started in September 2019 by the Anticorruption Prosecutor's Office.
Irmantas Mikelionis told Moldovan prosecutors that he received an A4 envelope at home with an anonymous letter and a stick. In the anonymous letter it was indicated that he was intercepted, and the telephone conversations were intercepted at the indication given to the then director of NAC, Bogdan Zumbreanu, by the PDM leader, Vladimir Plahotniuc. It was written in the letter that Zumbreanu had the European expert intercepted and followed by NAC officers Ruslan Macovei, Alexandru Coreţchi and Radu Starinschi.
Irmantas Mikelionis also said that on the stick he discovered the recordings of several telephone conversations held in his office at the NAC headquarters, as well as pictures of him from different parts of Chisinau. The pictures were also taken when he was leaving the house, near the NAC headquarters, while crossing the street. In one of the photos, he was caught with the expert of the European Union from the Money Laundering Prevention and Combating Service, Iolanta Viziniene. Mikelionis said he found pictures of other accredited experts in Chisinau on the stick. The Lithuanian expert also stated that he was remunerated monthly with 2000 euros, and his spinning caused him a damage that he estimates at 2500 euros. Sources from the Prosecutor's Office informed us that the file was managed by anti-corruption prosecutor Mihail Ivanov.
Asked by reporters of the Anticoruptie.md portal, Mihail Ivanov said that he knew about this case, but he did not investigate the case.
Asked by Anticoruptie.md reporters, Alexandru Caraman confirmed that he had such a case under management, but it was suspended. The former director of NAC, Bogdan Zumbreanu told us that he does not know about such a file and that none of the European experts have been followed and intercepted.
! Acest articol este proprietatea SafeNews.md și este protejat de legea drepturilor de autor. Orice preluare a conținutului se poate face DOAR în limită maximă de 1000 de semne. În mod OBLIGATORIU cu indicarea în TITLU a sursei citate, iar în text cu LINK ACTIV către pagina acestui articol. Preluarea integrală se poate realiza doar în condițiile unui ACORD prealabil întocmit cu redacția portalului.