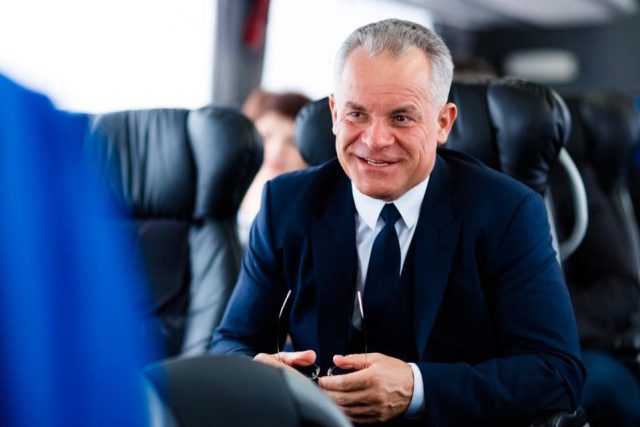 Former Democratic Party President Vladimir Plahotniuc, accused in the bank fraud case, is not on the list of criminals wanted by Interpol. After Interpol refused to search for Plahotniuc a year ago, the law enforcement authorities in Chisinau have hardly insisted that the fugitive oligarch be included in Interpol's search list, SafeNews.md reports referring to anticorruption.md.
In early July last year, the File Control Commission of the Interpol General Secretariat of the ICPO rejected the inclusion of former PDM leader Vladimir Plahotniuc in the list of people announced in the international search and decided to delete his data from the Organization's databases.
Subsequently, Moldovan prosecutors sent a new request to Interpol, accompanied by new evidence of the oligarch's involvement in bank fraud, but Interpol did not reply to this request, without providing details on the reason for the refusal. Moldovan prosecutors have no choice but to take steps, based on bilateral cooperation agreements, to extradite Plahotniuc. For this, the presence of the oligarch on the territory of the respective state must first be identified, after which the Prosecutor's Office is to initiate an official approach regarding the detention and extradition of the person.
The procedure contains several bureaucratic stipulations and takes time. Thus, until the extradition request reaches the country where the fugitive was identified, he manages to disappear. At the moment, it is not known for sure where Plahotniuc is. Previously, his presence was identified in the USA and Turkey and it is rumored that he was also seen in Romania.
The General Prosecutor's Office forwarded Plahotniuc's extradition requests to the USA, Turkey, Cyprus and Saudi Arabia. Vladimir Plahotniuc left the Republic of Moldova in June 2019, after the PDM withdrew from government. In October 2019, the General Prosecutor's Office announced that two criminal cases had been initiated on the oligarch's name and he was put under general investigation. In 2020, new allegations were made against Plahotniuc on his involvement in bank fraud.
! Acest articol este proprietatea SafeNews.md și este protejat de legea drepturilor de autor. Orice preluare a conținutului se poate face DOAR în limită maximă de 1000 de semne. În mod OBLIGATORIU cu indicarea în TITLU a sursei citate, iar în text cu LINK ACTIV către pagina acestui articol. Preluarea integrală se poate realiza doar în condițiile unui ACORD prealabil întocmit cu redacția portalului.